MP AIR SQN UNIT
(AIRWING UNIT)
National Cadet Corps in the college plays a significant role in shaping the character of students by instilling the values of patriotism, service, discipline and hard work. The Airwing Unit of NCC functioning in the college includes Senior Division and Senior Wing cadets. Enrolled Cadets get institutional training and can participate in adventure activities, community development programmes, various national level and annual training camps; youth exchange programmes, sports and cultural activities etc. The Air wing NCC unit in the college comes under the command of 1 MP Air SQN  (Indore) . Prof. Manish Joshi, Assistant Professor of Electronics and BCA Department is attached with 1 MP Air Squadron NCC.
The main objective of the Air Wing unit is to create interest amongst the youth of the nation in aviation activities. In the Flying Sqns, besides normal training, cadets will be imparted training in  microlite flying activities.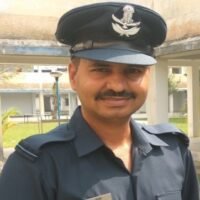 Associate NCC Officer (ANO)

 

           

            

 Fg. Offr.  Manish Joshi

Intake capacity

    

     :            67  ( SD / SW )

 

Eligibility Criteria

     :       First year students

 
Students attended Republic Day Camp (RDC) at New Delhi are :
| | | | |
| --- | --- | --- | --- |
| Harshi Solanki | 2019-20 | Madhusudan Jat | 2016-17 |
| Vaibhav Hooda | 2018-19 | Trapti Anant | 2016-17 |
| Jahanvi Sharma | 2018-19 | Yash Kaushal | 2015-16 |
| Rupali Gurjar | 2017-18 | Chintu Rao | 2014-15 |
| Pramod Bhandari | 2017-18 |   |   |
Students attended All India Vayu Sainik Camp (AIVSC) at Bangalore / Jodhpur are :
Shreet Pathrikar

2019-20

Prashant Yadav

2017-18

Sumit Modi

2019-20

Aayush Agrawal

2017-18

Upendra Dixit

2019-20

Vivek Kourav

2017-18

Aman Prajapati

2019-20

Rishiraj Awasthi

2017-18

Madhav Soni

2018-19

Krishan Chand

2017-18

Shakti Khedekar

2018-19

Umang Singh Raghuvanshi

2016-17

Shivangi Tiwari

2018-19

Shubhankar Sangisapu

2016-17

Nikita Bhadouriya

2018-19

Sonali Shinde

2016-17

Chalcy Rajput

 

2018-19

Kanshika Pandey

2016-17

Himanshu Chourashiya

2018-19

Aisha Khan

2015-16

Jayesh Upadhaya

2018-19

Yash Kaushal

2015-16

Preeti Mandloi

2017-18

Dhavnit Tetarwal

2015-16
Some Advantages to NCC Cadets
An excellent opportunity to get acquainted with the services.
A chance of a lifetime to get trained in scores of adventure activities.
A training ground for acquiring iron-will and impeccable discipline.
Participation in dedicated teams in service to the nation.
Hundreds of Scholarships to those who excel in all activities, ranging from academics to adventure.
Opportunity to travel abroad.
A cadet holding C certificate in B grade entitled to apply for direct commission in the defense services.
A cadet holding B or C certificate can aspire to be enrolled in uniformed posts by PSC
Preferential advantage in seeking admissions in professional courses at all India level.