Department Of Bio-Technology
Biotechnology was introduced at B.Sc. level at P.M.B Gujarati Science College, Indore, in 2003. The course was started by the Microbiology Department. In May 2012, it came into its independent existence. The course offered is B.Sc. (Biotechnology) with intake capacity of 180 students.
Faculty Members
Dr. Priti Vyas,   Asst. Prof.  (Head of Department)
M.Sc., Ph.D. (Applied Microbiology)

Research Supervisor (Life Sciences, DAVV)

Member Board Of Studies, Biotechnology, DAVV

Member of RAC Life Sciences, DAVV (2020)

22 yrs of teaching experience

17 national and international publications
·       01 book published by international publisher (Germany)
·       Completed 02 Minor Research Projects (UGC)
Ms. Poonam Vijaypuriya, Asst. Prof.
M.Sc. (Biotechnology)
Five yrs of teaching experience
The laboratory has been meticulously designed by keeping in mind the experimental needs of the subject, with intake capacity of 50 students. Our laboratory has state of the art facilities to satisfy the curriculum need. This well equipped laboratory is enriched with a wide range of basic and advanced instruments including- Laboratory Fermentor, Advanced automated cooling Centrifuge (software based), Bucket Centrifuge, Laminar Air Flow, Flourescent Microscope, Projection Microscope, Incubators, Electronic balances, Soxlet apparatus, Electrophoresis set up, Tissue culture rack, etc.
The Biotechnology department has successfully completed three minor research projects aided by UGC. The staff members are actively engaged in research activities.
| | | | | | |
| --- | --- | --- | --- | --- | --- |
| Sr. no. | Title of MRP | Year | Funding agency | Total grant received | Principal Investigator |
| 1. | "Isolation of MDR pathogens" | 2006- 2008 | UGC | Rs. 65,000/- | Dr. Priti Vyas |
| 2. | "Comparison of reactivity of Japanese encephalitis virus raised against monoclonal antibody SA1414-2 with wild type JE7193" | 2010-2012 | UGC | Rs. 1,05,000/- | Ms. Neelam Shivhare |
| 3. | "In – vitro propagation of Vanilla planifolia and study of its antimicrobial activity against MDR  Enterobacterial Pathogens". | 2015 -2017 | UGC | Rs. 2,00,000/- | Dr. Priti Vyas |
Priti Vyas has 17 national and international paper publications to her credit
Priti Vyas is VC nominated member of RAC (Research Advisory Committee) Life
            Sciences, DAVV.
Kriti Joshi has published research paper in an international journal (Springer), presented 2 posters in national conferences.
The Department organizes various co-curricular and extracurricular activities for the benefit of the students. Special efforts are taken to uplift the Hindi medium students by teaching them in Hindi and make them understand the words & terms commonly used in biotechnology.
Extra classes are also held to prepare the students for the practical exams and especially for the viva-voce of practical examinations. Moreover, the Department regularly organizes subject oriented debates, quiz competitions, poster & slogan competitions to unveil talent of students. Audio-visual teaching aids like scientific video clippings, animations, colourful diagrams etc. are extensively included in the power point presentations prepared by our faculty. 
Contributions towards Society
Every year the department organizes eco-friendly Ganesha making workshop for the students.
We encourage our students to plant trees by organizing plantation programmes ocassionally.
To enhance student's awareness towards AIDS, HBV, cancers, hypertension, etc. The department organizes special presentations and lectures, in collaboration with MSAI and International Federation of Medical Student Association, from time to time.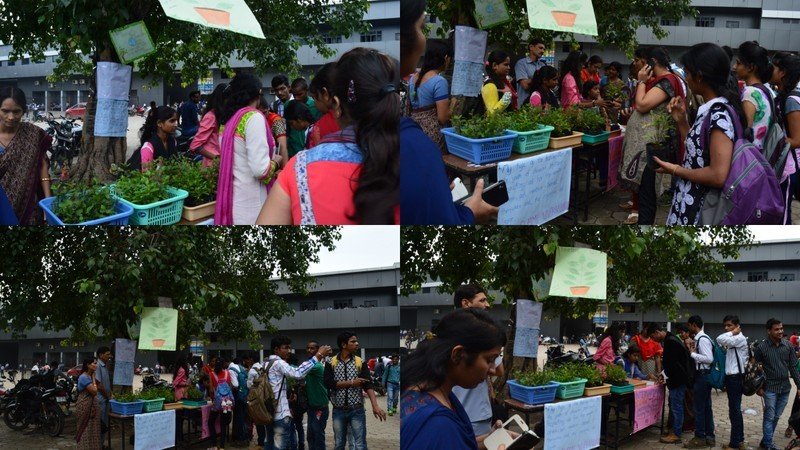 Special lectures in collaboration with MSAI
Academic Excellence
Every year the department observes "academic excellence week" for the students. In this program guest lectures are arranged to improve their subjective knowledge apart from regular curriculum.
Educational tours are arranged for better understanding of the subject.
MPCOST, Bhopal sponsored two days national workshop was conducted for the final and second year students.
Three students of Biotechnology final year participated in WetLab championship and represented the college at IIT Hyderabad.
 
Almost everybody is enthusiastic about the promise of biotechnology to cure disease & to relieve suffering – LEON KASS
Duke Thomson Pvt. Ltd., Indore, which deals with dairy products, diagnostics, food biotechnology, microbiology, pro-biotic, etc. visits the department from time to time for campus selection of the final year students of biotechnology.
DEPARTMENTAL LIBRARY
The department has its own library with reference books which covers theory and practical syllabus. About 80 books are available in this library covering all the branches of biotechnology of renowned international authors and publishing house. The books of the departmental library are available for ready reference and are accessible to the staff and students. Internet facility is also available in the department which is availed by staff members and occasionally by B.Sc. Final year students.