DEPARTMENT OF ELECTRONICS & COMPUTER APPLICATION
DEPARTMENT OF ELECTRONICS & COMPUTER APPLICATION
Introduction
The Department is widely recognized as one of the most prestigious Electronic Department. It is a premier department in the state, known for high standards in teaching and research. The Department is conducting courses leading to B. Sc. with Electronics and Bachelor of Computer Application. These courses are affiliated to Devi Ahilya Vishwa Vidhalaya, Indore. The department has developed beautifully with full facilities for students. There is a well equipped library and an Internet Access Network. All students joining these courses are required to undergo practical training in the Industry. Our alumini now spread over a large number of government and private organizations.
History
The Department of Electronics initially was the part of department of Physics from 1990 to 1993 and has come to have its own identity in 1994.
To keep in pace with the vast changes brought about by the revolution in electronics and information technology a Bachelor of Computer Application course has also been established under this department in 2009.
Goals
To provide the necessary theoretical background and practical experience in order to meet the requirements of the R&D Organizations and Industries.

To update the curriculum of these courses regularly to keep it in consonance with the changing industrial environment by the development of minor, major projects and research activities.

To be one of the leading departments to be known for research, creation of knowledge base education, industry interaction and entrepreneurial activity.

To have an association with reputed Institutions for academic excellence and man power development.
Vision
To be recognized as an excellent department in Electronics and Computer profession that provides a great learning experience and to be a part of an outstanding community both at national and international level.

To develop human potential so that intellectual, grounded and creative leaders can grow and evolve and can contribute to the society by equipped them with:
Up to date Technical Knowledge

Analytical and Practical skills

A creative and innovative approach to work.
Mission
To enhance further interface with the Industry by an annual seminar series in which professionals from industry, R&D organizations and academics are invited.

To provide a student centered learning environment which emphasizes close faculty-student interaction and co-operative education.

The department endeavors have been to develop an ideal environment where the students can grow and become socially conscious, disciplined, responsible and inspiring leaders of the future.

To prepare graduates who excel in the technical studies, qualified to pursue advanced degrees, and possess the technical knowledge, critical thinking skills, creativity, and ethical values.
Prof. Vimal Sharma
Designation:

Head of Department

Year of Joining:

1996

Educational Qualifications:

Ph. D., MBA, M. Tech., M. Sc. (Electronics)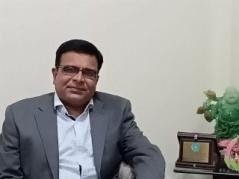 Prof. Dinesh Jajoo
Designation:

 Assistant Professor

Year of Joining:

1996

Educational Qualifications:

Ph. D., MBA, M. Sc. (Electronics)
Prof. Manish Joshi
Designation:

Assistant Professor

Year of Joining: 2001
Educational Qualifications:

  MCA, M.Sc. (Electronics), UGC NET Cleared 

Publications:

3 National Journals,

Authored of 10 books in computer science and Electronics 
Prof. Mrs. Vaishali Bhale
Designation:

Assistant Professor 

Years of Joining:

2004 
Educational Qualifications: M. Tech., M.Sc. Electronics,